Source: Case from Vancity Community Foundation
MID-MAIN COMMUNITY HEALTH CENTRE
The building's days are numbered. Repairs are sorely needed, and the cost might be prohibitive. For nearly 30 years, Mid-Main Community Health Centre operated out of a former office building at Main Street and East 24th Avenue in Vancouver. The building was not originally designed to be a health clinic, but it became a special place that provides a broad spectrum of care beyond the traditional physician-patient model, essentially a community that cares for a community. All under one roof, clients can enjoy a continuum of care from a team of physicians, nurses, nurse-practitioners and a pharmacist, as well as affordable dental services from a team of dentists and dental hygienists that focus on low income and higher needs dental patients.
The Centre doesn't have much money for the repairs, but it does have one spectacular asset: 7,300 sq. ft. of prime Vancouver real estate. The first thought would be to sell the building and buy a new one, but to benefit financially they'd need to purchase something more affordable, which would mean moving much further from the community they serve. The question becomes: how can the Centre leverage their real estate assets to meet their needs?
"These are really big decisions for a small non-profit. It's daunting for a board to decide to sell major assets and invest in something new," says Lynn Buhler, a board member of the Centre. "We're a very lean operation. We would not have been able to do the work that was required, or even know how to do all the real estate analysis and feasibility that we were able to do, without Catalyst Community Developments Society."
The process began with conversations, with Vancity Community Foundation staff, about how the Centre might begin to address its real estate challenge. In April 2018, a $15,000 grant from the Foundation funded a feasibility study, allowing the Centre's leadership and board to work through these important questions with Catalyst Community Developments Society, an experienced non-profit developer and affordable housing owner/operator. Catalyst was created with the goal of helping non-profits leverage their real estate and land assets to better serve their communities and to contribute to affordable housing needs in the region.
"We really try to create solutions that use community-owned real estate to provide significant benefit to that community," says Robert Brown, the president of Catalyst. "We believe that this community land can and should stay in community hands in perpetuity and can be used to further the mission of the organization that owns it."
The feasibility study helped the Centre explore several potential options: buying the lot next to them and amalgamating the two sites, redeveloping the current site, or selling and moving. Through this work, a unique opportunity emerged to partner with Catalyst in another development, close by at 6th and Main. This new option would allow Mid-Main to develop a new purpose-built clinic on the ground floor, while transforming their existing site into a project that includes some affordable housing, which will generate ongoing revenue for their organization.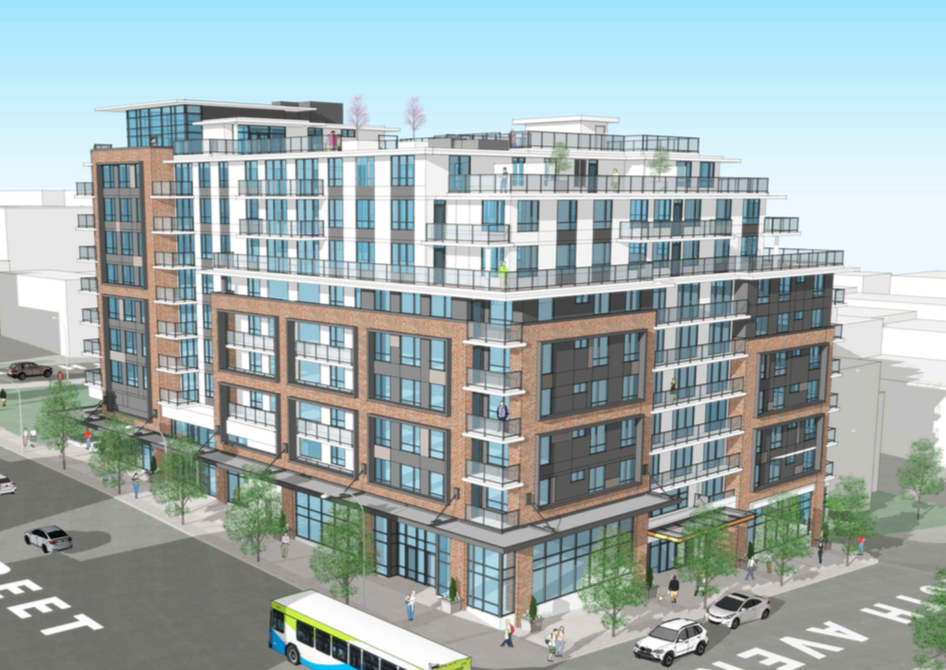 It took some time to crunch the numbers, but eventually the Centre agreed to a 60-year leasehold in the new development. Their new space will be built to serve their purpose as a community health centre including more clinical rooms, a play space especially for children with special needs as they wait for dental care, plenty of meeting space, and great visibility on the up-and-coming corner. The 10-storey building will be finished in 2021, and will also be home to 145 below-market rental homes, and a restaurant.
Only 20 blocks south of its current location, the Centre will still be able to serve its community, and enjoy close proximity to public transit, including the new subway line slated for Broadway.
Once it moves into its new home, a joint venture with Catalyst plans to redevelop the old location into a six-story building with 28 apartments of affordable housing, ranging from studios to three-bedrooms, as well as 3,700 sq. ft. of commercial space.
"The idea is that there would be ongoing rental revenue that would flow to help Mid-Main and Catalyst both deliver on their missions ‒ Mid-Main's mission being the delivery of health care services to the community at a low cost and for Catalyst, it's about building affordable housing," says Robert.
A second grant of $20,000 from the Foundation in August 2018 funded the next step of crafting a business plan, including design work and cost estimates. Now, they are waiting for re-zoning approval from the City of Vancouver to turn the plan into reality.
"We continue to learn that the devil is the details," says Lynn. "Both the Foundation and Catalyst really have community first in their mind and are truly our partners. It has been a godsend, and we couldn't have done this without the support of Vancity Community Foundation. It would not have happened."
Not only will the Centre have a wonderful new home and additional revenue from rental housing, they are also supporting the clients they serve by creating something their community really needs: more affordable housing.
FOCUS AREAS Affordable Housing & Real Estate
THEMES Health